SHIPYARD 4.0
See The Future with FORAN
Shipyard 4.0 in a CAD context
---
The Government, through our President, Mr. Joko Widodo, Indonesia declared itself to be a Maritime Axis country that is not also Indonesia and is looking forward to the future with the declaration of the 4.0 Industrial Revolution
---
How is Industry Implementation 4.0 in the shipbuilding industry? The answer is FORAN-PLM Advanced Integration and we will know it in the future as SmartShips.
---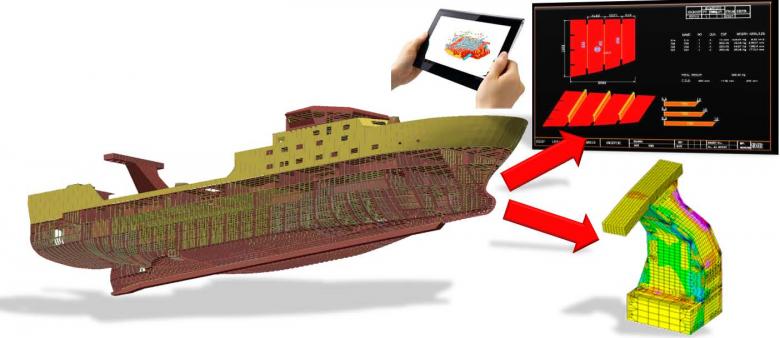 SmartShips Introduction :
Predictive maintenance.
Performance optimization.
Analytics and decision support tools.
Robotics.
Unmanned remote or autonomous ship operation.
Automation.
Shipbuilding and CAD adaptation to IoT
Advantages of IoT in ship building:
Design phase.
Building of the ship.
Operation of the ship.
---
IoT Challenges
Security.
Non standardization.
Scale problem.
Security:
---
Malicious software.
Identification of individuals/objects.
Privacy of data.
Easy Office integration for easy data exchange without proprietary interfaces.
Integration in design systems of control engineering manufacturers to generate program code and support hardware design.
Non standardization:
---
Each manufacturer offer its solution.
Platform – sensors.
Connectivity – network.
Business model – Analysis and actions.
Scale problem:
---
Millions of devices accessing.
Concurrency of updates.
Selection of data. Analytics.
---
Architecture of the solution
The Conclusions of IoT and Smart ships
IoT is an opportunity to develop smarter "SmartShips".
Smart Ships will be connected to IoT or they will not be smart.
IoT have threads, issues and challenges that must be addressed.
Software CAD tools can provide solutions to some of them, but need evolution from single solutions to global solutions.
Global software solutions will not be a unique corporate tool, but a set of different layers of software attending the different aspects related with IoT and able to communicate among them.